5 Gallon Bottle Decapper and Brusher BS-1
FESTA BS-1 is mainly used for thorough cleaning of used 5 gallon bottles.
It can remove impurities in the bottle, sediment at the bottom of the bottle, algae, etc.
Equipped with de-capping device.
Suitable for 3 gallon bottles and 5 gallon bottles.
360 ° no dead angle cleaning.
The machine has simple structure and low maintenance cost.
Advantage of BS-1 5 Gallon Bottle Decapper & Brusher
Although this de-capper machine is semi-automatic, but it is stable operation, low energy consumption, the price is very cheap. Very suitable for users who were purchasing QGF-150, QGF-300 and other small scale 5 gallon water filling machine. At the initial stage of production, the machine can replace manual work with very low cost and improve production efficiency.
Description
Data Sheet
Video
Description
The worker places the used 5-gallon bottle handstand on the right side of the decapper position, inserts the bottleneck into the hole, and the worker steps on the pedal to remove the cap from the neck, then the worker needs to put the 5-gallon bottle into the left side of the washing machine, after the jar bottle is put in, close the safety door, and 5 gallon bottle brusher machine will automatically start cleaning. When you open the security door, brusher will stop working automatically.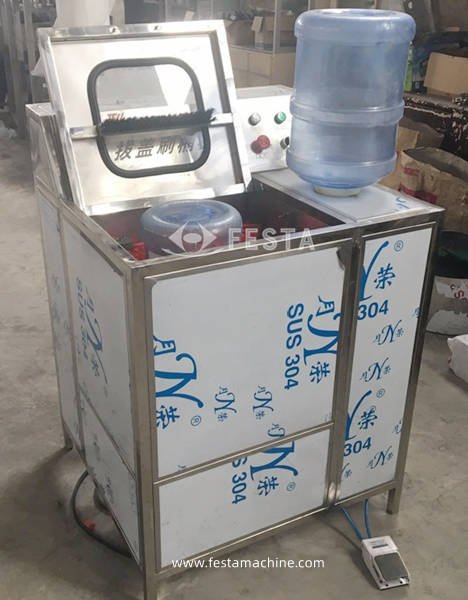 Data Sheet
Video