TB-150 Shrink Sleeve Labeling Machine
Production Capacity: 5000-9000 bottles per hour
Operation Model: Fully-auto sleeve labeler with shrink sleeve tunnel
Label Material: PVC label
Suitable Container: PET bottle, Glass bottle, Tin can, Plastic soda can
Benefit of FESTA TB-150 Shrink Labeling Machine
Our TB-150 automatic shrink labeling machine adopts the latest shrink labeling technology and is equipped with high-precision touch screen, which is easy to operate and convenient to switch labels. After precise design, the labeling machine can run smoothly for a long time without worrying about stability. The machine can applicate labels to 150 bottles per minute. It has a wide range of applications and can be compatible with square bottles, round bottles, flat bottles and so on. No matter what kind of container, we can always meet your various requirements. The machine is suitable for pharmaceutical, food, medicine, bottle juice, bottle milk, carbonated beverage and so on.
Description
Data Sheet
Video
Description
Window-sealed stainless steel mainframe: make the operator work safely, the whole machine is waterproof and does not rust.
Adjustable cutter head: original rotary cutting, double-sided blade, longest life.
Single positioning center guide column: label guide is stable.
Split screw: bottle conveying is not easy to shake.
Label brush under the group: the accuracy of the label is more accurate.
Tag control electric eye rack: original combination of tail wing and electric eye to improve the cutting accuracy of membrane material.
Color man-machine touch screen: the operation is more humanized.
Fixed supply rack.
TB-150 label machine electrical configuration:
PLC programmable controller: Mitsubishi, Japan.
Frequency converter: Panasonic, Japan.
Sensor: Japanese Keynes.
Relay: OMRON.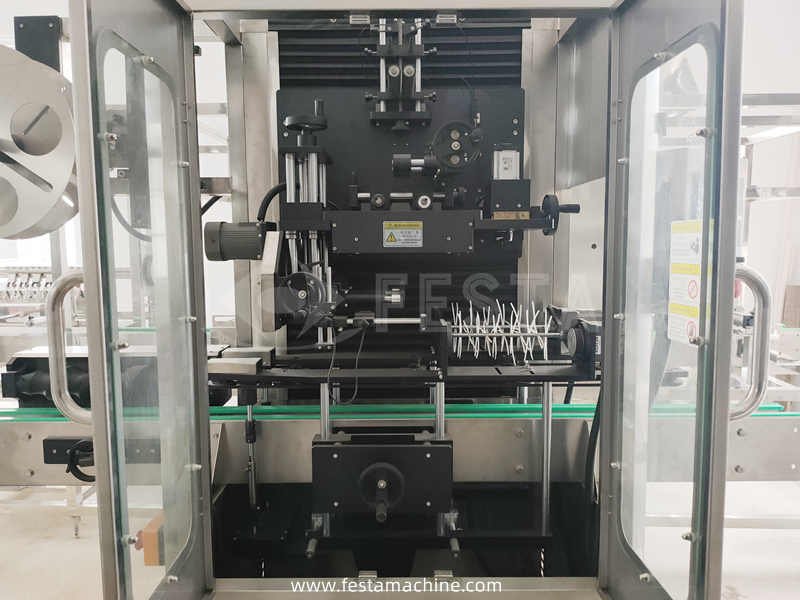 Data Sheet
Video