5 Gallon Water Filling Machine Manufacturer
FESTA 5 gallon filling machine meets European and American manufacturing standards, as long as you tell me your approximate demand (5 gallon bottle with or without handle, capacity), we can customize the machine for you. The whole machine is covered with stainless steel 304 to ensure that the interior of the machine is in a clean state and that the water will not be polluted by the environment in the filling process.
Professional 5 Gallon Water Bottling Machine Supplier.
FESTA 20 litre jar filling machine is designed to take into account the situation of different countries and regions, for recyclable 5 gallon bottle, the cleaning process can be carried out to the maximum extent possible.
Even in areas with different elevations and lower temperatures, our machines can be used normally and run automatically for a long time.
Related Equipment of 5 Gallon Filling Line
5 Gallon Bottle Sleeve Labeler
In order to keep the 5 gallon bottle mouth clean and hygienic, specially designed automatic bottle mouth cap labeling machine. Easy to operate and low cost.
High Quality 5 gallon Water Bottle Filling Machine
Generally speaking, gallon filling equipment is an automated device without too much human intervention. The whole machine is made of high strength stainless steel, which is resistant to acid and alkali corrosion and does not leak. The electric meets the CE standard, and the safety index meets the ISO standard. The height of the machine can be adjusted by anchor bolts. The electrical components are integrated in the machine and do not take up additional production space.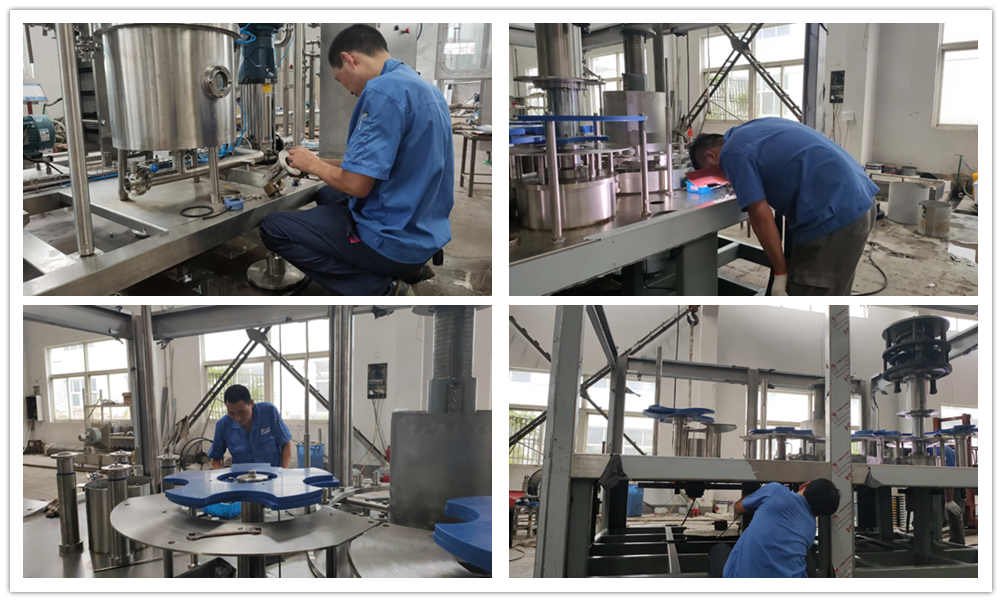 Complete Customized 5 gallon Filling Solution
At FESTA, we can produce 5-gallon filling machines with different production capacity and filling forms, so that different customers can find the right models. As an excellent manufacturer of all kinds of automatic 20 litre jar filling machine, FESTA can tailor a variety of gallon filling equipment to meet your different needs in filling capacity, machine size, electrical configuration, delivery time and best price. Our senior engineers with decades of experience can design 5 gallon bottling machines that meet your special needs with meticulous attention to every detail. No matter which country you are in, our team will help you design solutions from scratch and eventually help you capture the 5-gallon water market.
High Quality 5 gallon Filler Material.
All 5 gallon bottling machine of FESTA are made of sanitary grade stainless steel 304with thickness not less than 2mm. The filling valve is made of 316 stainless steel, which has better corrosion resistance. In the empty bottle flushing area, due to the use of acid and alkali solution-assisted cleaning, we also use corrosion-resistant nozzles and seals. These measures can protect the equipment from corrosion. With this, even if the raw water in your factory is too hard, it will not cause harm to the machine. These filling machines are manufactured in strict accordance with the relevant standards of ISO 9001 and manufactured to the highest quality standards under the quality management system.
20 Litre Jar Filling Equipment
In order to provide customers with long-term and stable operation of 5-gallon jar filling machine, our laboratory upgrades and optimizes the machine, configures the most advanced HMI and control system to meet real needs, upgrades the control program, improves the technological process, and completes the sensor layout. Innovative design of a new rack structure, save space, improve efficiency, to the satisfaction of users. At FESTA, we provide the most valuable, powerful and cost-effective solutions for the key equipment of your high-end liquid bottling plant. Over the years, we have focused on providing our elite customers with the most stringent standards and customized 20 litre jar filler. You no longer need to worry about finding a good equipment manufacturer, just give us your next order and we will give you a satisfactory answer.
5 Gallon Water Machine Factory
Welcome to visit our factory in Jiangsu, China
The Definitive FAQ Guide for 5 Gallon Water Filling Machine