Reliable Manufacturer in China
Pure Water Machine For Sale
Festa pure water machine is used to pack pure water, mineral water, fruit juice and soy sauce liquid with low investment and high production efficiency. It can produce 2000 packs per hour (based on 500ml). If you pack 1000ml water, it can reach 1000 bags per hour. The whole machine has a compact structure, including bag forming, ultraviolet sterilization, cutting, filling, sealing and other functions. It is the most popular packaging water machine in Africa, Nigeria, South Africa and other countries.
FESTA SJ-1000 pure water machine can be widely used for packing various kinds of air-free liquid, especially for bag package of soy sauce, vinegar, fruit juice and other beverages(or iced beverage), bean milk, milk, mineral water, bean curd and liquid chemical products.
FESTA SJ-2000 pure water machine is a high-quality packaging equipment developed by our company according to the market demand, which is widely used in packaging pure water, mineral water, beverages and so on.
XGF18-18-6 Pure Water Bottling Machine is suitable for the production of bottled pure drinking water. The machine integrates three functions: empty bottle rinsing, empty bottle filling and filled bottle capping. Space saving, high degree of automation, production capacity of 6000-8000 bottles per hour. Support PET bottle, round bottle, square bottle and so on.
In order to meet the needs of customers for pure water production, FESTA Machinery has specially developed pure water production equipment. The equipment uses reverse osmosis technology to remove sediment, impurities and odors from raw water, and can produce pure water suitable for human drinking.
To produce pure water, people can choose FESTA pure water production machine, it is very efficient, can well turn raw water into pure water, is very clean and sanitary, and is usually used with bottled water filling machine and sachet water filling machine
The pure water bottle is made by a bottle blowing machine, and then the production of bottle pure water is completed after water bottling machine, bottle rinsing, filling and capping. The bottle blower machine adopts rotary continuous bottle blowing, which has high production efficiency and saves energy consumption.
The XGF8-8-3 one-gallon pure water filling machine can produce one gallon of drinking water in large container. With touch screen and high filling precision, it is the preferred equipment for your bottled water production.
Festa 5 Gallon Pure Water Bottling Machine is designed for bottle 5 gallon jar bottle. The whole machine include bottle washing, bottle filling and bottle capping. Click to get free quote now!
Welcome to Visit FESTA Factory
China Famous Pure Water Machine Manufacturer
Automatic Pure Water Machine
FESTA is a professional manufacturer and supplier of pure water sealing machines.
FESTA provides a variety of pure water production machines.
According to different functions, it can be divided into full-automatic pure water machine, full-automatic pure water making machine, full-automatic pure water bottle filling machine and pure water bottle making machine.
From the name point of view, there are dingli pure water machine, Koyo pure water machine, FESTA pure water machine and so on.
The prices of different pure water machines are different. FESTA's machines have favorable prices and reliable quality, and have been recognized by most African customers.
If you need more details about the pure water machine cost, you can click and send us a message.
Related Product with Water Bottling Machine
Automatic pure water machine
dingli pure water machine
pure water sealing machine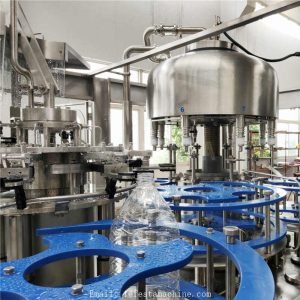 pure water filling machine
pure water production machine
cost of pure water machine
Pure Water Machine: Ultimate Guide
What is pure water machine?
Entering the pure water production industry is a step to open up a new market. But you need some knowledge to make your production process easier. Most investors have plans to expand, or just want to reduce costs. So, what is a pure water machine and what does it do?
Usually we say the pure water machine is also called sachet water machine, this machine through the internal precision structure, to achieve bag forming, cutting, filling, sealing and other functions.
At the same time, it has UV sterilization function to ensure the safety and hygiene of sachet pack water. This pure water packing machine has a low investment and is suitable for factories in most African countries. And the market demand is great.
The advantages of FESTA pure water machine
Machine Characteristics:
The water pure machine can automatically complete the sachet making, quantitative, filling, sealing, cutting, counting, coding and other processes, and can be customized according to customer requirements.
The manipulator type pull sachet film has stable performance and convenient adjustment.
The whole material contact parts and casing are made of 304 stainless steel, which conforms to the food and drug hygiene license standard. Can be equipped with ultraviolet sterilization.
The measuring method is filled with plunger volume pump, which is easy to adjust and accurate.
The advanced design ensures that the machine is very convenient for adjustment, operation and maintenance when it is suitable for different industries. It can be used with all kinds of automatic measuring equipment.
Scope of application:
Packaging materials: milk, soy sauce, vinegar, yellow rice wine and pure water.
Packaging materials: polyethylene / PE and other heat-sealable plastic film.
What is pure water making machine?
Pure water making machine, usually on the market, we collectively call water purification system or reverse osmosis system. Reverse osmosis equipment refers to the use of reverse osmosis technology. The equipment not only has the functions of concentration, purification and separation, but also has many advantages such as non-pollution and easy operation, so it is widely used in high purity water preparation, tap water purification, seawater desalination, brackish water desalination, sewage reuse and other fields. Double-stage RO (reverse osmosis) is the secondary filtration of purified water by reverse osmosis technology. So as to further remove a large number of organic components, heavy metal ions, harmful impurities and bacteria in the water. After passing through the EDI equipment again, the impurities in the water are greatly reduced, thus the electrical conductivity is greatly reduced. It is a water (H2O) without impurities and closer to chemical meaning. It is often used in a wide range of fields such as electronic manufacturing industry, medical industry, bioengineering, injection manufacturing and so on.
What is the raw material of sachet water pack?
Sachet water pack made from sachet roll, the raw material of sachet rool is LDPE resin. LDPE films are generally made by both blow molding and cast processes.    Cast polyethylene film has uniform thickness, but is rarely used due to its high price.    Blow-molded polyethylene film is made from blow-molded grade PE pellets blown by a blow-molding machine and is most widely used because of its lower cost.    LDPE film is a translucent, glossy, soft texture film with excellent chemical stability, heat sealability, water resistance and moisture resistance, freezing resistance and boilability.    Its main drawback is the poor barrier to oxygen, commonly used in the inner layer of composite flexible packaging materials film, and is also the most widely used, the largest amount of a plastic packaging film, accounting for about 40% of plastic packaging film consumption.
Because polyethylene molecules do not contain polar groups, and high crystallinity, low surface free energy, therefore, the film has poor printing performance and poor adhesion to ink and adhesive, so it needs surface treatment before printing and lamination.
How to start a pure water production plant?
First of all, you have to have a clean place to put all the machines. There are two devices that are very important for pure water production:
Water purification unit.
The main function of this machine is to purify your water source to meet the standard of drinking water. Removing the impurities in the raw water and eliminating the possible health risks is that the electrical conductivity of pure water reaches the standard of drinking water. Any company that produces drinking water must purchase a high-quality water purification machine.
Pure water machine.
We usually call it sachet water packing machine, and its function is to automatically fill the purified water into sachet and seal it. Sachet water sealing machine has its own UV lamp, which can be sterilized to a certain extent in the filling process to ensure the final drinking water quality. In addition to the above two equipment, you also need a finished water tank as a production buffer, as well as the necessary connecting pipes.
Pure water machine price?
There is a big difference between the prices of sachet pure water machine and bottle pure water machine, so you have to determine the type of packing container you have.
If it is a sachet pure water machine, generally speaking, there is only one model, that is our SJ-1000. It has a production capacity of 2,000 per hour (based on 500ml's sachet pack) and usually costs more than $1,000 (excluding packaging and freight).
If you need bottle pure water machine, then you will have multiple choices, first tell us your bottle size and bottle material (PET bottle or glass bottle). FESTA can offer 2000-36000 bottles of bottle pure water machine without hours, which you can choose according to your budget. 2000BPH's fully automatic bottle water making machine usually costs more than $10,000.
It's Time to Start Your Pure Water Business!
Fill Out Below Form and We Will Reply to You Within 11 Hrs