China Juice Filling Machine Manufacturer
Cold filling, hot filling and aseptic filling of fruit juice. It only takes one machine to fill containers with different capacities and different juice. Send your inquiry now.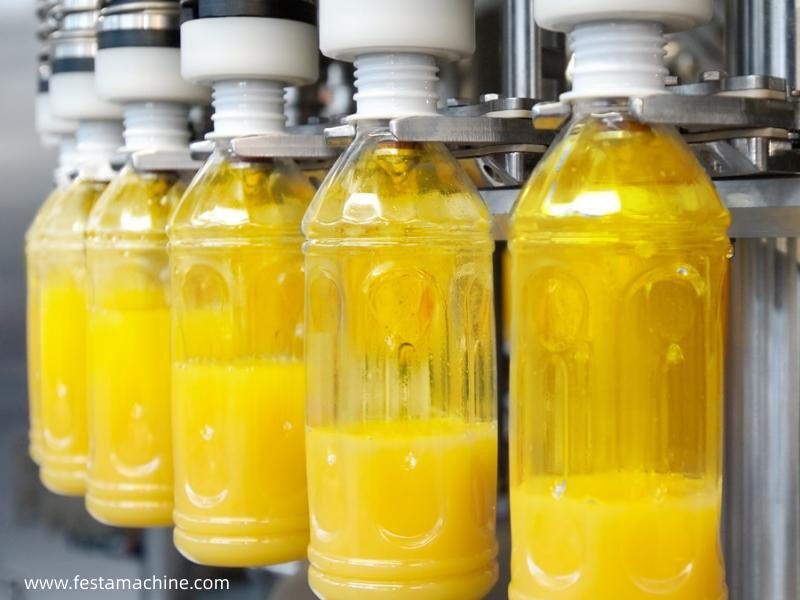 Juice Packing Machine Solutions That Meet Different Needs
We supply juice filler production capacity range from 2000BPH-36000BPH
FESTA has various types of fruit juice filling machine, such as aseptic filling systems dedicated to the production of high-end bottle juice, hot juice filling machine for general mass production, juice pouch filling machine, the most popular in African countries, and small juice filler specially developed for startup. FESTA's mango juice filling equipment can also be configured with CIP,COP, SIP, SOP and other functions according to customer requirements to ensure that the sanitary level of the filling environment meets the food grade requirements. If you are interested in producing juice, send us an inquiry right away.
The Most Stable Fruit Juice Filling Machine.
According to many years of engineering experience, FESTA continues to innovate, optimize the process, improve the operation stability and production efficiency of the whole machine, and the single machine efficiency can reach more than 99.7%. You do not need to worry that the machine will often break down to avoid your losses. Our machines are all designed and assembled in accordance with international standards.
The Main System of Juice Hot Filling Machine
Juice bottling machine for sale is equipped with high efficiency wear-resistant bottle water dispenser, high cleaning pressure, better cleaning effect. The stainless steel nozzle thoroughly sprays the inside and outside walls of the bottle, and the water channel design is reasonable to reduce water consumption. 304 stainless steel clip with silicone pad to protect the bottle mouth from damage.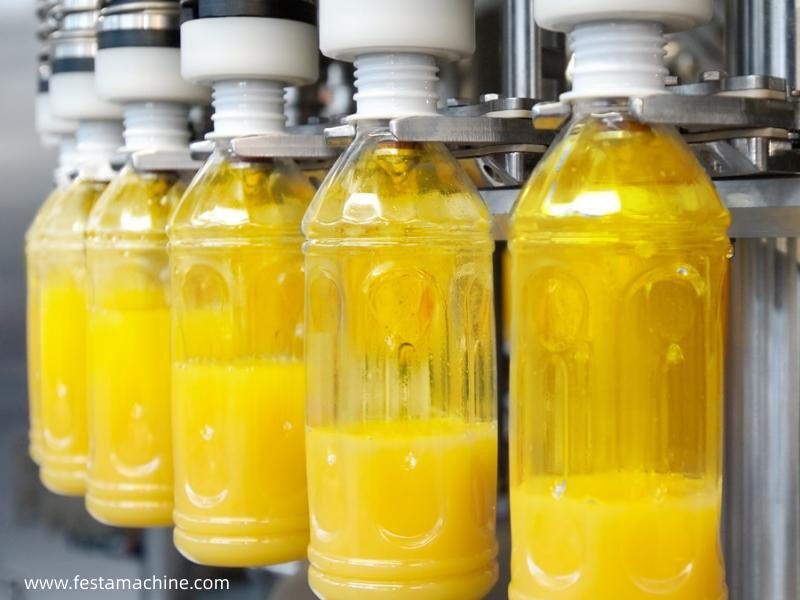 Can fill various types of juice, tea drinks, energy drink, etc. Hot filling temperature can reach 92℃. Juice bottling machine is equipped with temperature and liquid level sensor to monitor the filling process in real time. The unique design of the filling valve system can be compatible with heat-resistant bottles and non-heat-resistant bottles, reducing the cost of customers. If customers want to fill fruit juice containing granule, it only need to configure a set of independent granule filling machine beside the juice filling system to meet the requirements. satisfaction
The food-grade silicone inside the capping head can protect the cap from being damaged when screwing on the bottle, and ensure the sealing of the cap to avoid contamination of bottled juice. The torque of the capping machine can be easily adjusted to suit different caps and juice bottles. Fully automatic juice filler with high precision capping system is the best choice in the market, can produce bottled juice and bottled beverage products efficiently, safely and stably, without your worries.
Juice Filling Machine by Production Capacity
Small juice filling machine, can produce 1,500-2,000 bottles per hour
3,000-3,500 bottles per hour mango juice filling equipment
Production capacity: 5,000-6,000BPH. Middle size juice filler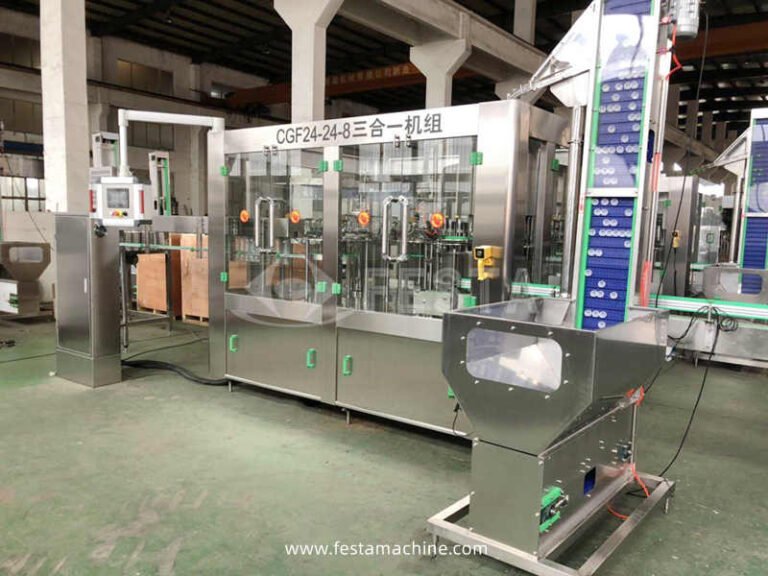 Production capacity: 7,000-8,000BPH, hot juice bottle filling machine
9,000-10,000BPH production speed, can suitable for various bottle sizes
Production speed: 13,000-14,000BPH, best selling model for juice factory
Production capacity: 15,000-16,000BPH, adopt Germany filling technology
Machine capacity: 18,000-20,000BPH, adopt Germany filling technology
Filling capacity: 24,000-26,000BPH, super high speed hot juice packing machine
Different Juice Filling Temperature
Aseptic Juice Cold Filling Machine
Advanced aseptic cold filling technology can be used in the product without adding preservatives
Middle Temperature Juice Filler
Using ultra-clean medium temperature filling technology, filling effect is good, the cost is lower than aseptic filling machine
Hot Juice Filling Equipment
The most widely used hot filling technology, low cost, high efficiency, it's the first choice of most customers
We provide complete juice filling line
Juice Bottling factory – Fruite juice bottling line for processing and bottling juice into bottles.
We manufacture juice bottling machine, juice precessing plant, juice bottle blow molding machine, shrink sleeve labeling machine and film shrink wrapping machine with turn-key project.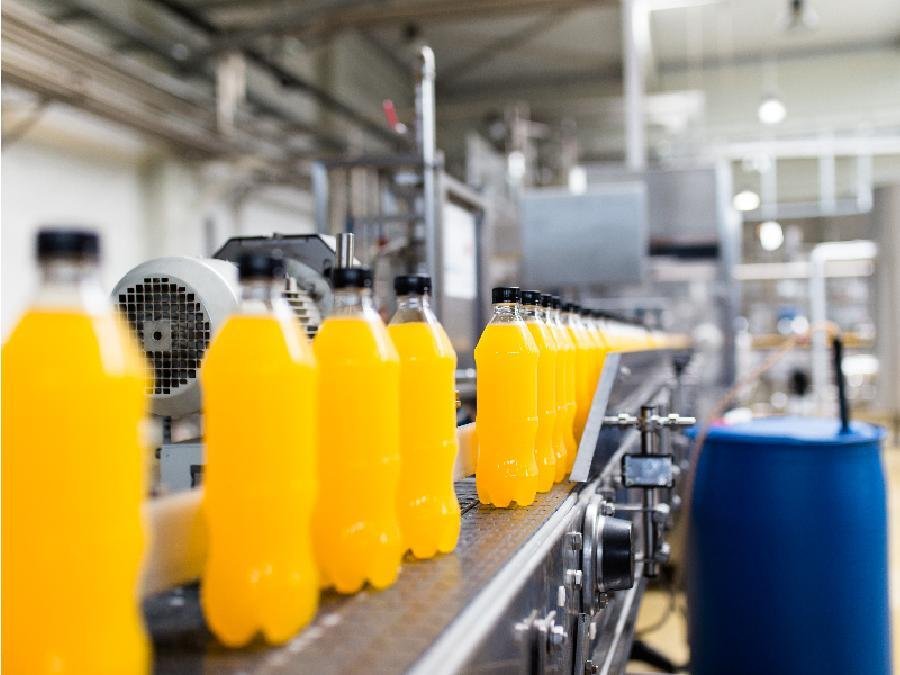 You can choose different configurations.
FESTA is one of the few factories in China with all the juice filling technology, such as hot filling, medium temperature filling and aseptic filling. You can choose the right machine according to your budget and needs. If you want your juice product not to add any preservatives, and to maximize nutrients and maintain the best taste, you can choose our aseptic juice filling machine. If you want to be more cost-effective, you can choose hot juice filler. Please consult us for details.
Juice Packaging Machine Auxiliary Device.
FESTA provides a series of solutions for juice packing machine to save you costs. You can customize various configurations, such as remote control module, filling form, safety door form, bottle cap disinfection form, motor brand, PLC brand, cylinder brand, etc., to meet your special needs. In FESTA, you can always find the most satisfactory answer.
Professional Supplier of Juice Filling Equipment
FESTA has been focused on producing juice filling machine for 30 years. We have developed dozens of juice filling machine for sale. According to the machine structure, we can be divided into two categories: juice bottle washing filling capping 3 in1 monoblock and stand-alone juice filler, so that the different needs of different customers can be met. The bottled juice produced by FESTA high quality filling juice machine has a long shelf life and is deeply loved by customers. Because we only use the highest quality parts to produce our machines. FESTA's machine can be used to fill mango juice, fruit juice, orange juice, litchi juice, etc. All kinds of juice can be produced stably under the condition of meeting the requirements of sanitary conditions and shelf life. Therefore, our machines are not only efficient, but also more stable.
Come and Talk to Our Juice Filler Engineer
Our factory located in China
Juice Filling Machine: The Ultimate Purchasing Guide