QGF-300 5 Gallon Water Bottle Filling Machine
Save space, save energy, save labour cost for your 5 gallon water factory.
Production Capacity: 300 per hour
Main Material: SUS304
Control Mode: Fully-automatic PLC control
Suitable Bottle Size: 4 gallon & 5 gallon
Advantages of FESTA QGF-300
Our 5 gallon filling machine adopts the latest stainless steel folding plate shell, which is more beautiful, and it is equipped with an openable tempered glass sealing window, which is convenient for customers to overhaul. The main electrical components and water pumps are of the best brand, with longer life and more stable operation of the machine. Using PLC touch screen control, filling time, flushing time, waiting time, etc. can be adjusted online.
QGF-300 5 gallon water filling equipment is composed of a bottle loading conveying system, an automatic bottle loading mechanism, a flushing transmission mechanism, an automatic bottle dropping mechanism, a filling mechanism, a capping mechanism, a bottle delivery system, an automatic capping system, and a water and electrical control system.
Bottle loading conveying system: convey empty bottles into the automatic bottle loading mechanism.
Automatic bottle loading mechanism: After the empty bottles reach the designated position, the system automatically counts them, and when the specified number is reached, the bottle loading mechanism automatically turns the empty bottles to the flushing transmission mechanism. The number of tests performed by the agency and the waiting time can be adjusted.
Flushing transmission mechanism: This station is driven by the chain for step-by-step transmission. When the step stops, the empty bottle is flushed (medicine wash, cycle wash, pure water wash) and then enters the automatic bottle drop mechanism. The flushing time of the mechanism can be adjusted.
Automatic bottle drop mechanism: automatically remove the empty bottle from the flushing transmission mechanism and send it to the filling mechanism. The institution's waiting time can be adjusted.
Filling mechanism: Fill the empty bottle with material, and after the filling is completed, it will be sent to the capping and capping mechanism by the conveyor chain. The filling time and waiting time can be adjusted.
Covering and capping mechanism: cover the bottle mouth and press the bottle cover tightly, and send it out of the filling main machine by the conveyor chain for other subsequent equipment.
Automatic capping system: Automatically feed the bottle cap to the capping and capping mechanism of the main machine.
Water and electrical control system: electrical appliances, water pumps, and pneumatic components required for the operation of the whole machine.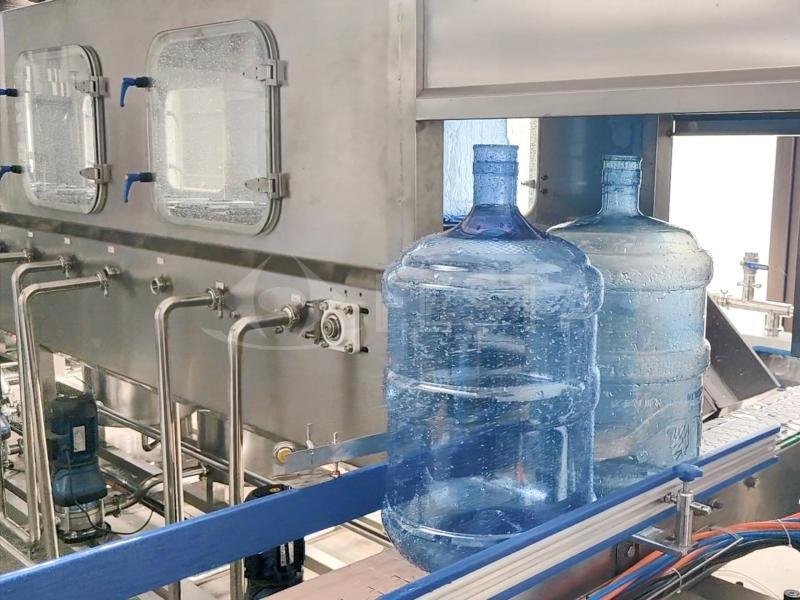 Machine Model

QGF-300

Suitable Container

4 gallon / 5 gallon

Washing Nozzle

12

Filling Nozzle

2

Capping Type

Chain Pressing Capping

Main Power

7kw

Air Consumption

0.8-1.0Mpa

0.4m³/minute

Washing Water Consumption

Washing water:1000kg/hour

the disinfectant is recycle use

Filling Water Consumption

6000 kg/hour

Dimensions

5600×900×1800mm

Weight

800kg