5 Gallon Bottle External Washer RWST-1
The machine has compact structure
High efficiency and stable reliability
High degree of automation.
Advantage of FESTA 5 Gallon Bottle External Washer RWST-1
RWST-1 automatic bottle external brushing machine is one of the important parts of 5 gallon water filling line. In daily life, the surface of the used 5 gallon empty bottle is often covered with all kinds of stains, which is difficult to remove. The use of traditional cleaning solution can not effectively remove stubborn stains, it is difficult to meet the sanitary standards of re-production. In order to solve the pain points of customers, FESTA have developed an online 5 gallon bottle external brushing and washing machine, which is equipped with three sets of high toughness brushes and flushed with high pressure water, which perfectly solves the problem of incomplete cleaning of the outer surface of 5 gallon bottles. This machine is made of stainless steel 304 and also easy cleaning and corrosion resistance.
Description
Data Sheet
Video
Description
5 gallon bottle external brusher machine adopts the latest rotary omni-directional cleaning technology, when the 5-gallon empty bottle moves forward with the star wheel, the cleaning brush rotates at a high speed, and the high-pressure nozzles spurts clean liquid, which can achieve the cleaning effect in a very short time.
The bottle neck of the 5 gallon empty bottle, the outer surface of the bottle and the bottom of the bottle can be fully cleaned to remove dirt.
The empty bottle rotates inside the machine, and the rotation direction of the brush is opposite to that of the empty bottle, which greatly increases the cleaning efficiency.
Unlike the traditional semi-automatic and manual bottle brusher machine, the machine can be used continuously inlet and outlet of bottles and can be used with a 5-gallon high-speed filling line.
The whole machine is wrapped in a SUS304 shell, and the cleaned stains are centrally discharged to the trench along with the sewage, which is more environmentally friendly. The machine can be linked to the filling machine or work independently.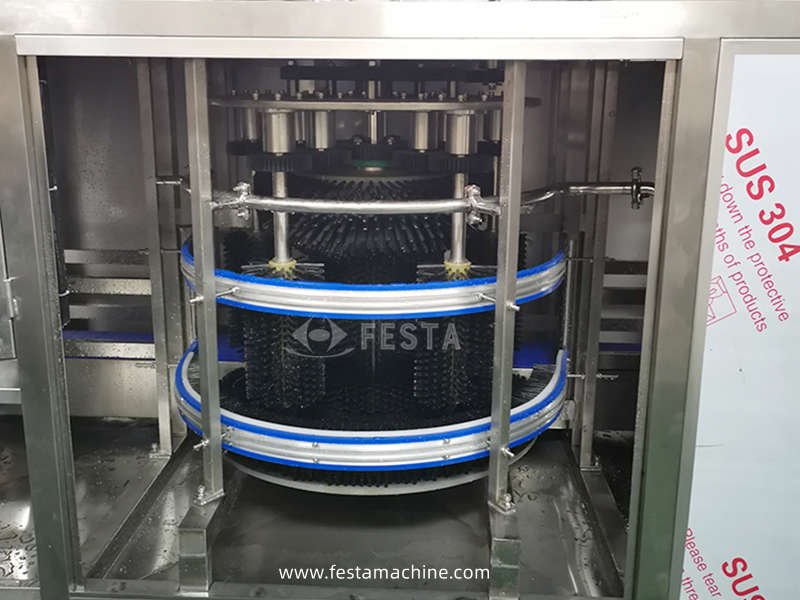 Data Sheet
Video