MBJ-15 Shrink Wrapping Machine for Bottle
Production Capacity: 10-16 packs per minute
Operation Model: Automatic linear type bottle shrink wrapper
Film Material: Shrinkable PE film
Suitable Bottle: Glass bottles, PET bottles, Tin cans
Benefit of FESTA MBJ-15 Bottle Shrink Wrapper
MBJ-15 heat shrink film packaging machine is based on the characteristics of packaging film shrinkage by heat, the use of photoelectric switch sensor online detection, collection of signals by PLC (programmable controller) program centralized control processing, the use of conveyor belt continuous bottle feeding, bottle clamping, bottle release, continuous push rod push bottle wrapping film, heating cutter sealing cut into packages, heating channel shrinkage cold air cooling and other institutions to complete the whole process.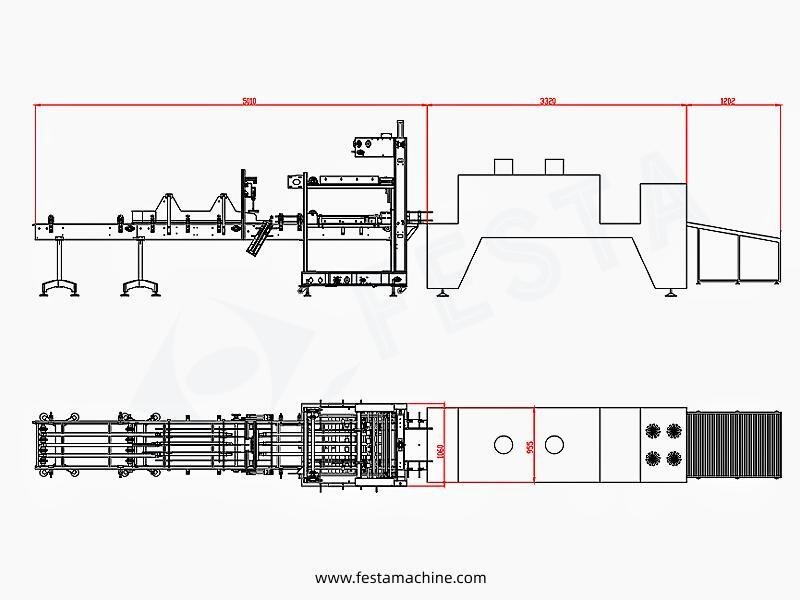 The equipment consists of the following parts.
Conveying device: conveying the items to be packed.
Bottle dividing and bottle blocking device: convey and control the travel of the packaged goods in separate channels.
Bottle pushing device: pushing the goods to the sealing and cutting station.
Bottle pressing mechanism: prevent backward bottles and ensure the completion of sealing and cutting.
Up and down film feeding device: conveying packaging film.
Sealing and cutting main body: seal and cut film to achieve film sleeve.
Hot air circulation device: complete the function of heat shrinkage.
High temperature resistant conveying mechanism: smoothly conveying finished products and completing heat shrinkage function under high temperature.
Carrying shelf: short time parking of finished products.
Cooling device: cooling finished products, easy to transfer products to the required location without breaking the package, not loose package.
Fault alarm device: prompt the operator to troubleshoot in time.
PLC program control system: automatic control.
Main electric control box: centralized control of the machine control.
Technical parameters
1、Technical parameters of the equipment
Model: MBJ-15
Power supply: AC 380V/50HZ
Maximum power consumption: 22KW
Working air pressure: 0.6Mpa
Supporting air compressor requirements: exhaust pressure: 0.8Mpa, flow: 0.25m3 / min
Various heat shrinkable films such as: PE, PP, PVC, POF
Packaging film width: ≤ 600mm
Packaging film thickness: 0.03~15mm
Feeding conveyor belt horizontal height: 950±50mm
Feeding conveyor belt length: 5100mm
Equipment external size: 9530×1080×1980(mm)
Total weight of equipment: 1800kg
2、Product packaging technical parameters
Maximum packaging size: 450×450×320(high)mm
Heat sealing knife length: 680mm
Shrinkage temperature: 130-260℃
Shrinkage time: 0-6S
Heat sealing and cutting temperature: 150-260℃
Maximum production speed: 10 -15 packs/min (according to the actual bottle)
Commonly used number of bottles per package (round or square)
3、Basic process time and temperature recommendation table
| | | | | |
| --- | --- | --- | --- | --- |
| Process | Heat sealing temperature | Heat sealing time | Heat shrinkage temperature | High temperature conveyor belt speed |
| Parameter | 150~190℃ | 1-3seconds | 160-220℃ | 20-25Hz |
Electrical configuration.
| | | |
| --- | --- | --- |
| No | Name | Brand |
| 1 | PLC | Siemens |
| 2 | Touch screen | Siemens |
| 3 | Cable | Siemens |
| 4 | Leakage air switch | CHNT |
| 5 | Air switch | CHNT |
| 6 | Relay | Schneider |
| 7 | DC power supply | Schneider |
| 8 | The inverter | Schneider |
| 9 | The inverter | Schneider |
| 10 | Solid state relay | Gut |
| 11 | Magnetic switch | Airtac |
| 12 | Photoelectric switch | AUTONICS |
| 13 | Proximity switch | AUTONICS |
| 14 | Correlation switch | OPTEX |
| 15 | mirror correlation | OPTEX |
| 16 | Solenoid valve | AIRTAC |