Your Trustworthy Water Bottling Machine Manufacturer in China
Your Premier Water Bottling Equipment Supplier
The main material of FESTA water bottling machine is stainless steel, we produced and manufactured our machines by European technology, with stable machine performance and timely after-sales service. As a professional water bottling machinery manufacturer, we have rich engineering experience and can customize machines for different liquids and bottle types. Our machines have passed ISO, CE, SGS, SONCAP and other certifications. Different customers can find satisfactory solutions in FESTA. Your just tell us your bottle water idea, and we will help you make it happen.
It is FESTA's smallest washing filling capping 3 in 1 monoblock. The whole machine adopts one-piece fuselage with high hardware configuration and can be bottled up to 3000 bottles per hour.
When you need a bottling machine with moderate production capacity, then our CXGF12-12-6 water bottling monoblock is your best choice, which can steadily produce 4000-5000 bottles of water per hour.
This machine is our best-selling 3 in 1 water bottling machine, its production capacity is 6000-8000 bottles per hour (500ml), with automatic empty bottle cleaning, automatic filling, automatic capping and other functions.
This is a mainstream fully automatic water bottling machine in the market with a production capacity of 10000-12000BPH. Use Mitsubishi touch screen, Mitsubishi PLC and Mitsubishi frequency converter control, compatible with multiple bottle capacity.
This machine is our high-speed automatic bottling machine with a production capacity of up to 300 bottles per minute. It is widely favored by large enterprises. The whole machine adopts a large number of automatic control original parts to ensure the stability of high-speed operation.
5 liter & One Gallon Water Bottling Machine
It used it to bottle water into large PET container. The maximum production capacity is no more than 1000 bottles per hour. Compatible with 3 liter, 4 liter, 1 gallon, 5 liter, 10 to 15 liter PET bottles.
This is our medium capacity large PET bottle 3 in 1 water filling equipment. It can produce 1500 bottles per hour, which integrates bottle washing, filling and capping functions. Complete the bottling procedure automatically.
The machine adopts high-speed, high-precision electromagnetic Flowmeter rotary filling system, with a total of 16 independent filling valves. The use of non-contact filling technology is more hygienic, and it is easier to switch the bottle type. The filling capacity can be set on the touch screen.
5 Gallon Barrel Water Bottling Machine
After decades of industry development, 5-gallon bottled water is still popular with consumers. FESTA 5 gallon water bottling machine has reached the industry-leading level through update iteration and technology upgrade. The flushing of the empty bucket is more thorough, and the filling level is more accurate.
When customers need a production capacity of more than 1200 barrels per hour, we recommend that customers choose a rotary 5-gallon water bottling equipment. The 5-gallon water machine with rotary filling system is compact, more efficient and more scientific.
Semi-auto Water Bottling Machine
Small scale semi-auto bottle water machine, suitable for a low cost water bottling plant.
Applicable liquids: all low viscosity liquids. Unsuitable liquids: very thick liquids (sauces, detergents, etc.) or liquids containing small particles.
Related Equipment of Complete Water Bottling Line
One Stop Customized Water Bottling Solution
FESTA can design different intercept bottling equipment according to customer's bottle size. We can also use of different filling methods according to customer demand, for example mechanical filling valve, flow meter filling valve, negative pressure filling valve, gravity filling and so on.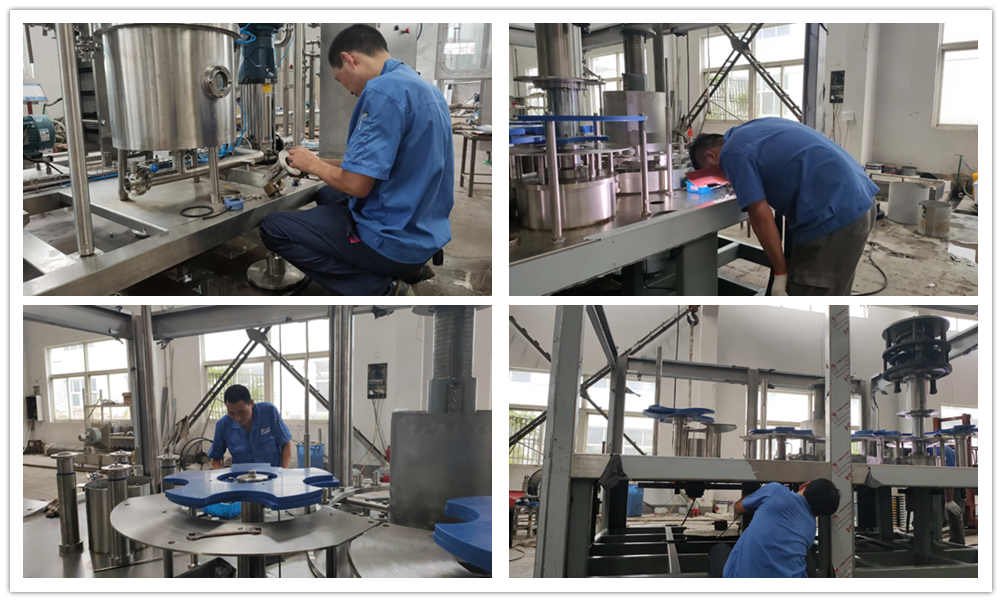 High Stability Machine for Your Bottling Plant
In order to improve the quality of the machine, we use CNC processing to ensure the accuracy. Always follow standard assembly procedures during machine manufacturing. We use the best electrical components to ensure that the machine will not fail to stop in the long production process.
A Wide Range Production Capacity for You Choose
Our minimum capacity bottler is only 200 bottles per hour, and our largest automatic water bottling equipment can reach 36,000 bottles per hour (based on 500ml bottles). Whether you make small bottle water or 5 gallon water, you can always find the ideal machine for your factory at FESTA.
Quality Manufacturing Process for Your Water Bottling Machine
FESTA water bottling equipment takes full account of the reasonable layout of various parts in the design, which makes it convenient for engineers to wiring, install motors, cylinders and welding frames.
The engineer can quickly disassemble and install the filling valves, capping heads, and adjust the height of the machine. When producing different volume bottle water, fast moulds can be used to reduce the replacement time and improve production efficiency.
We always improve the design and stability of the machine from the customer's point of view, in order to bring you the best bottling equipment.
We based in China, we have a big factory to produce quality water bottling machines.
Water Bottling Machine: The Ultimate Guide