PET Jar Blow Molding Machine FD-2J130
Blowing machine output: 1500-2000 bottles per hour
Machine action control: Servo displacement
Machine material: High quality steel
PET Jar bottle parameter: 150ml-2liter
Benefit of FESTA PET Jar Bottle Making Machine FD-2J130
Adopt advanced microcomputer control system with stable performance.
The use of ruby infrared lamp heating, strong penetration, bottle preform rotation heating, track rotation, heating uniform, fast and reliable; the lamp tube and reflector plate width and height in the heating area can be adjusted to suit the heating of bottle blanks with different structures, and there is an automatic temperature discharge device to ensure the constant temperature of the baking channel.
Every mechanical action has a safety self-locking device, and when a process fails, the program will automatically switch to a safe state.
Each action is driven by cylinder without oil pump, which has the advantages of no pollution and low noise, and adopts high pressure and hyperbolic arm connecting rod clamping, which has strong clamping force.
Customers can choose the injection molding machine to connect the bottle blowing machine directly according to their own needs.
Description
Data Sheet
Video
Description
The whole machine is designed according to the linear high-speed blow molding machine, the equipment is lengthened to ensure a high rate of finished products, can adapt to various jar bottle types of rapid prototyping, can adapt to the 24-hour environmental temperature change, the equipment temperature does not change.
Transmission system: this machine adopts nylon slider structure, the material is the international brand imported from the United States. The advantages: light weight, wear resistance. Even if the machine works at high speed for a long time, it can still keep the center distance unchanged. (The long-term operation of the chain bottle blowing machine in the market will lengthen the center distance and increase the maintenance cost.).
Clamping system: using hyperbolic arm clamping + high pressure clamping to make the clamping machine run more smoothly and at high speed, with large clamping force and small clamping line.
The mold locking machine is equipped with lubricating oil distribution system, which can evenly supply lubricating oil to all joints of the hyperbolic arm and better protect the hyperbolic arm.
One out of two fully automatic bottle blowing mold, with positioning function, it only takes 5 minutes to replace the mold.
High-efficiency thermostat preform oven, each group of lights are controlled separately. The height and width of the reflector plate and lamp in the heating zone can be adjusted to adapt to the heating of all kinds of PET jar bottle preform. Equipped with automatic exhaust temperature device to keep the temperature of the bottle embryo oven stable. While the sprocket rotates, the bottle preform rotates at the same time to ensure that each side of the bottle preform is uniformly heated and the bottle blowing quality is ensured.
Jar bottle mouth cooling: using circulating water and air cooling to avoid thermal deformation.
The use of ruby infrared energy-saving lamp, the penetration power is double that of the general infrared lamp.
The shift adopts servo, which has the advantages of good stability, high speed and high output.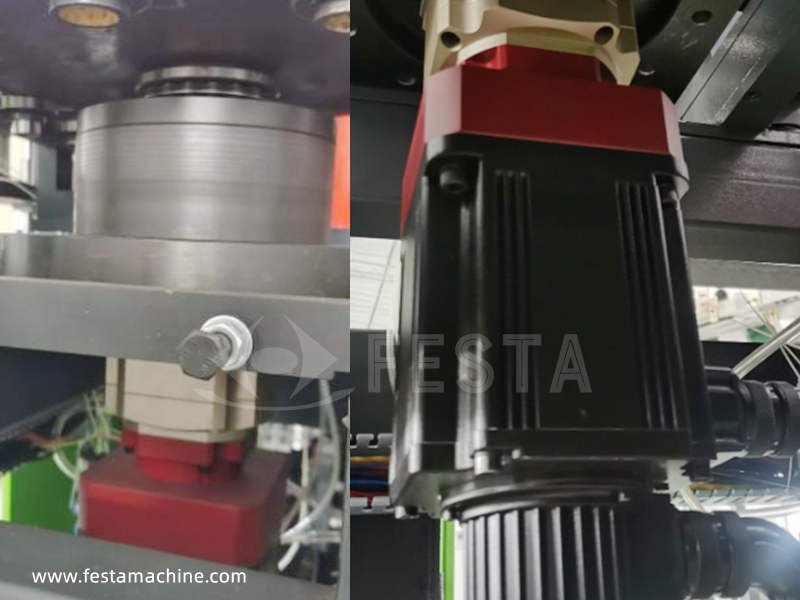 Data Sheet
Video