FESTA, a leading company in China water filling machine industry, has recently announced its successful entry into the European market by exporting the high-end QGF-150 5-Gallon Water Filling Machine to Europe for the first time. This marks the company's continuous expansion and development in international markets.
The QGF-150 5-Gallon Water Filling Machine is one of FESTA's flagship products, manufactured with advanced technology and craftsmanship. This equipment has gained a reputation in the domestic market for its outstanding quality, performance, and reliability. Due to its excellent quality and high production capacity, the QGF-150 has become the preferred choice for numerous beverage and liquid food production companies in the domestic market.
The exported high-end QGF-150 5-Gallon Water Filling Machine will provide European customers with advanced filling solutions. The equipment features an automated control system, enabling high-precision filling operations to ensure consistency and product quality. Additionally, the QGF-150 possesses flexible filling capabilities, accommodating various bottle sizes and capacities. Its efficient production capacity and stable performance will help European customers enhance productivity and meet market demands.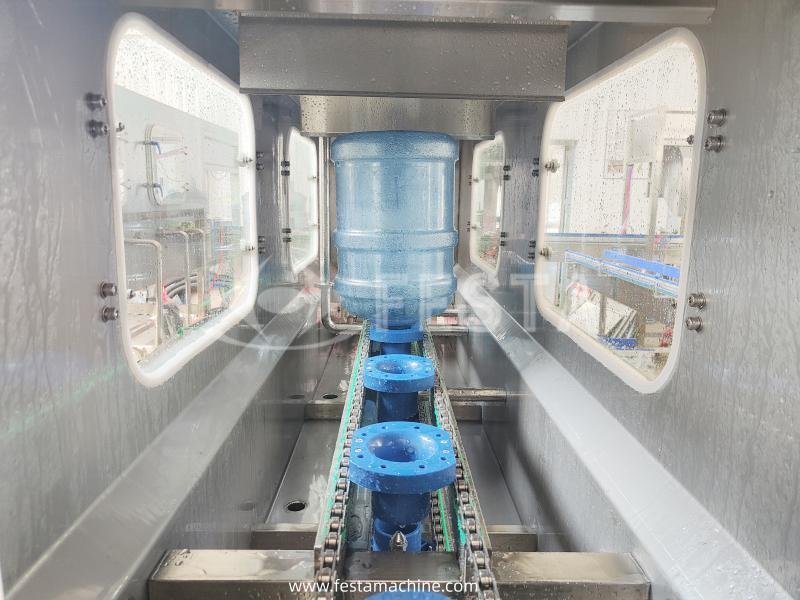 With extensive experience and a strong reputation in the domestic market, FESTA has taken an important step towards its internationalization strategy by successfully entering the European market. The company will continue to strengthen its collaboration with European customers, providing customized solutions to meet their diverse needs.
Being the company's first European customer, the delivered QGF-150 5-Gallon Water Filling Machine will bring new opportunities and competitive advantages to the European market. By introducing leading domestic filling technology, European customers will be able to enhance product quality and production efficiency, further solidifying their position in the market.
FESTA remains committed to innovation and technological research, offering customers more advanced and high-quality products and solutions. The successful export of the QGF-150 5-Gallon Water Filling Machine to Europe is a testament to the company's dedication to global expansion and its focus on providing cutting-edge equipment to customers worldwide.
For more information, please fill out below form to contact our support team.