Plastic Soda Can Making Machine FDC-1S
Production Capacity: 1000-1300 bottles per hour
Control Model: PLC control with touch screen
Container material: PET (polyethylene terephthalate)
Suitable soda can size: Height 70-300mm
Benefit of FESTA FDC-1S Plastic Drink Can Cutting Machine Manufacturer
More and more soda drinks manufacturers in the market are not using the traditional tin can packaging and use plastic soda can as the container. The can cost of this PET material is much lower than that of tin can. In order to produce this kind of PET plastic soda can, you only need to blow a designed beverage bottle through the PET blow molding machine, and then cut the mouth of the bottle through FESTA's automatic PET cutting machine, and a beautiful and textured PET soda can is produced.
Description
Data Sheet
Video
Description
At present, plastic bottle cutting in many countries adopts manual extrusion cutting, which requires manual control and with low efficiency. The rate of finished products is affected by the skills of operators, and the qualified rate is uneven. Extruded incisions will inevitably lead to inaccurate cutting, waste of materials, rough edges and dust. The FDC-1S fully-automatic plastic soda can cutting machine newly developed by FESTA adopts the automatic rotary cutting method, which is the upgrade and transformation of the traditional manual cutting method, with high precision and non-roundness of ±5s. Using machine to cut the bottle can greatly reduce the labor cost, the speed is fast, the cutter adopts soft contact mode, the bottle mouth is protected from rough edges at the same time, and the cut surface is smooth, beautiful and hygienic.
FDC-1S cutting machine is mainly used for the production of PET cans, which can be connected with PET blow molding machine and beverage canning line.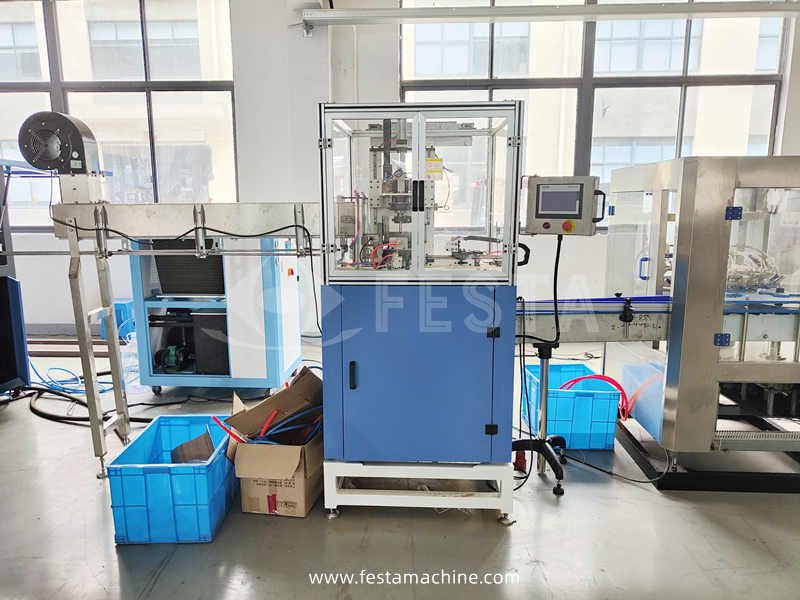 Data Sheet
Video