1)The sterilization of drinking water can be divided into two types: ozone sterilization and ultraviolet sterilization.
Ozone sterilization is the main method of sterilization at present, and the effect is good, but because ozone is soluble in water, it needs to be placed for at least 24 hours (ozone decay period) after ozone sterilization. After 24H, ozone will become oxygen.
Ozone smell: fishy smell.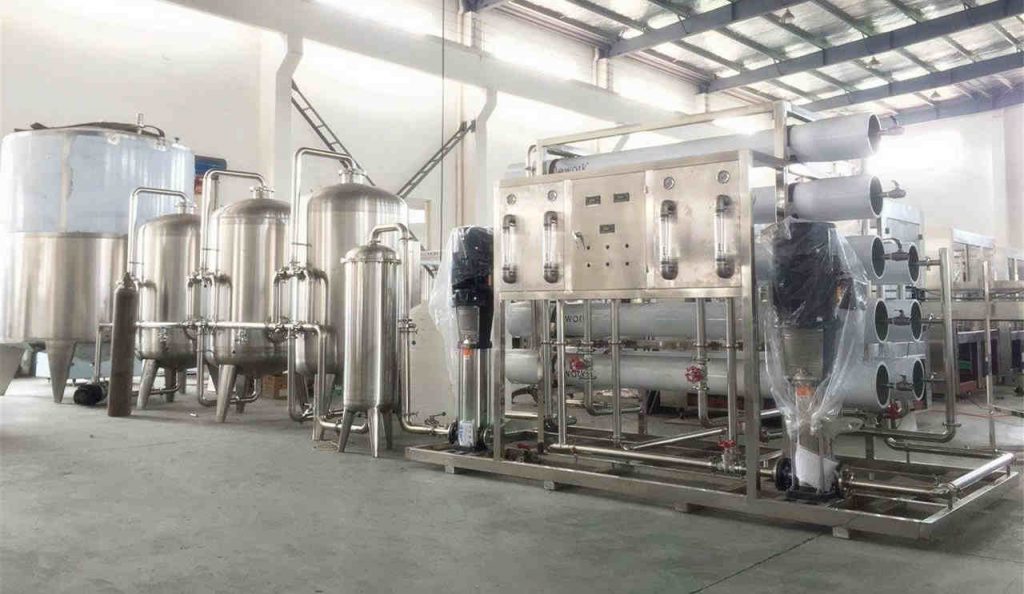 2)The principle of sterilization:
(1) Ozone is sterilized by the high oxidation of ozone. Ozone sterilization will use the ozone mixing tower, ozone moves up from the bottom of the mixing tower, water moves from top to bottom, and the water is sprayed down through a fog distributor in the mixing tower, increasing the contact area between ozone and water, thereby killing bacteria.
The process of sterilization is actually a process of oxidation.
(2) Ozone enters the water through the Venturi jet so as to achieve the effect of sterilization.
(3) UV sterilization: ultraviolet wavelength is the most effective in killing and destroying the molecular structure of DNA or RNA in bacterial viruses within the range of 240~280nm, resulting in growth cell death and / or regenerative cell death, achieving the effect of sterilization and disinfection.
The use of medium voltage UV sterilization, affected by electricity, is only instantaneous sterilization, there is no continuous sterilization ability, the follow-up pipeline, filling need to be strictly controlled to avoid secondary pollution.
3)Comparison of UV and Ozone Sterilization:
(1) the scope of ozone sterilization: the water treatment system is far away from the filling machine and the pipeline is long.
(2) scope of UV sterilization: products that are sensitive to bacteria, such as milk beverages, will oxidize the beverages and destroy the beverage taste if ozone is used; the water used for making beverages can not be sterilized with ozone, but can be sterilized with ultraviolet rays.
1 drinking water-pure water, mountain spring water, mineral water, mineral water, etc., can be sterilized with ozone and ultraviolet rays.
2 the effect of bromate should be considered in ozone sterilization of mineral water (mountain spring water). (a by-product of mineral or mountain spring water sterilized by ozone, which is a carcinogen.).
3 all membrane materials are not resistant to ozone, so it is necessary to prevent ozone from entering the membrane system.
Tips:
Which countries and regions use ozone to sterilize?
Japan and South Korea do not need.
Ozone and UV can be mixed, first ultraviolet and then ozone sterilizationUV
In industrial production, ozone is often used to disinfect and purify water bodies.
However, due to the strong oxidation capacity of ozone, the remaining ozone in the water may have an impact on the next process if it is not removed. Usually, ozone-treated water must remove the remaining ozone before entering the main process. Ultraviolet with a wavelength of 254 nm is very effective in destroying the remaining ozone, which can be broken down into oxygen. Although different systems require different sizes, in general, a typical ozone elimination system requires about three times as much ultraviolet radiation as a traditional sterilization system. After ultraviolet sterilization, use a filter-titanium rod filter or others to intercept and kill bacteria.
Just fill out blew form and let us know your idea, we will reply to you within 11 hrs.