Your Premier Chinese Producer and Supplier of Water Filling Machine
FESTA Water Filling Machine boosts your bottling business
Since its inception, FESTA has been committed to becoming the most trusted manufacturer and supplier of water filling machines in China.  As a professional factory, we can provide you with all kinds of high quality water filling machines. Therefore, our goal is to become the most reliable Chinese factory. At FESTA, we have a range of water filling machines for you to choose from.  You can choose from our mineral water filling machine, drinking water filling machine, PET bottle water filling machine, carbonated water filling machine, packaged drinking water filling machine. 
FESTA's Water Filling machine is durable and fully functional.
FESTA has the best design and unique features of the water filler.
FESTA production technology is very advanced.
We provide you with the best performance equipment.
Small Water Filling Machine
Most of bottle water plant will choose this machine as a start, It is made by stainless steel 304. Production capacity: 2000BPH
This model water filling machine for sale, production capacity is 4000-5000BPH, the function is mineral water packing machine.
These filler can support PET bottles of different sizes and shapes. Adopted Siemens PLC. Speed: 6000-8000BPH
It supports special customization from different countries and regions to meet your filling needs. Capacity: 8000BPH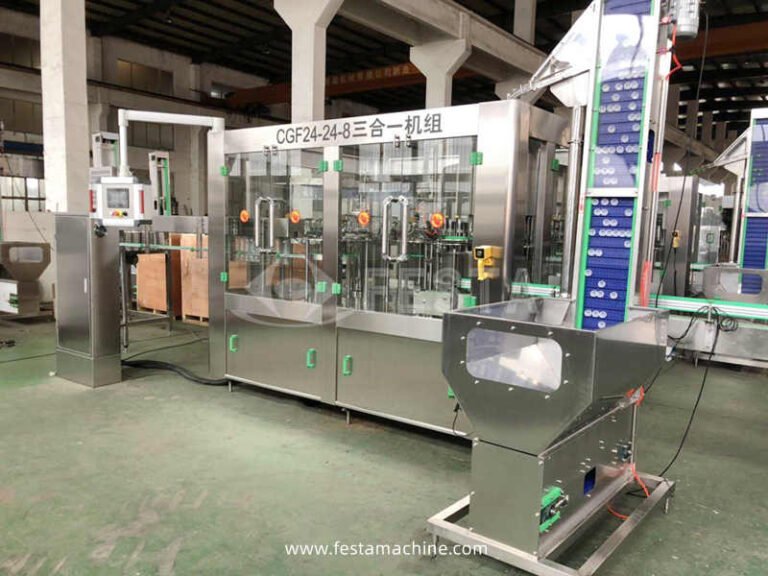 It can fill not only still water but also other liquids. It is made of fully automatic program to ensure their stability. Speed: 12000BPH
The machine is designed to take into account the needs of the water plant. Production Capacity 18000BPH
One Gallon water bottle washing filling capping monoblock, production capcity is 800BPH.
Gallon bottle water 3 in 1 filling monoblock, production capcity is 1500BPH.
One Gallon(4liter) water filling machine, production capcity is 2000 bottles per hour.
Sachet size from 500ml to 1000ml
Glass Bottle Filling Machine
Bottle size from 250ml to 2000ml
Production speed from 150 to 2000BPH
The advantages of Festa's Water Filling Machine.
Our mineral water packing machine usually has a strong steel structure to ensure the strength of the whole machine. It can also customize the number of bottle washing stations according to the needs of customers, customize the structure of filling valves, and is compatible with ordinary covers and sports covers. According to the requirements of laws and regulations in different regions, a bottle cap disinfector can also be selected to ensure the sanitary level of the bottle cap. The HMI adopts full touch screen control, all parameters are clear at a glance, intelligent production. We usually use high quality stainless steel to make parts in contact with liquid. Therefore, our water filling equipment takes full account of the needs of users and can provide affordable solutions.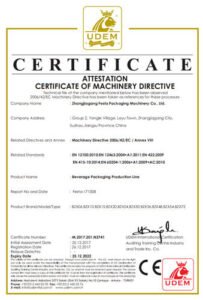 High degree of automation and reliable quality.
Our PET bottle water filling machine uses a high precision filling valve with adjustable liquid level. The user can adjust the filling liquid level conveniently and quickly according to the production needs. The filling accuracy is also better than that of the same type of filling machine, and bottled water with the same liquid level can be produced. To adjust the liquid level, you only need to replace the return pipe of different length. If the customer purchases a Flowmeter filling machine, the filling capacity can be adjusted with one click on the touch screen, which greatly reduces the cost of PET bottled water production enterprises. All FESTA water filler are produced according to local and international quality standards. These products have been certified and approved by ISO, SGS, CE and so on. FESTA is your most trusted professional water filler machine manufacturer.
FESTA, a trusted drinking water filling machine manufacturer
At FESTA, we can deliver all kinds of water filling equipment on time. We have a strong engineering team to ensure that your machines are efficient and easy to use. In addition, we also have a professional after-sales service support team to provide you with a worry-free purchasing experience. If you are looking for an experienced, reliable, responsive liquid filling machine manufacturer, FESTA is your first choice! Click to send inquiry now!
Water Filling Machine Price
We have water filling machine for sale. We have a rich range of products, different bottle types, production capacity, configuration will lead to different prices. The smallest water filling machine costs only about $1000, while the highest-end, highest-speed fully automatic water filling machine costs more than $200000. At FESTA, you can always find the right equipment for your current stage. In order to make the perfect machine, FESTA provides our customers with many options, such as safety doors, FFU units, Flowmeter filling valves, integrated motors, intelligent touch screens, etc. On the basis of ensuring high quality, FESTA is also competitive in price and can be connected with other rear packaging and front bottle blowing systems to form a whole line. We provide a long warranty for all our machines.
Let us tell you how to make a water filling machine
Buying Guide of Water Filling Machine